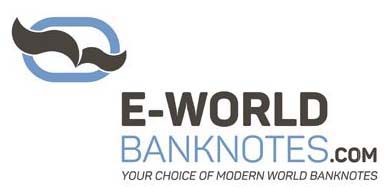 SHIPPING OPTIONS AND TERMS
IBNS MEMBER #8104

Shipping Prices and options:
| | |
| --- | --- |
| Registered Postage Air Mail, banknotes (under 100 banknotes) | USD$15.00 |
| Registered Postage Air Mail banknotes (over 101 banknotes) | inquire |
| Registered Postage Air Mai , coins (1-4 Coins) | USD$12.00 |
| Postage for banknotes over 500 notes or 5 coin sets | inquire |
| | |
| --- | --- |
| EMS - Europe/North America/Asia | inquire |
Timelines:
Once payment is received by us, we put your order in our shipping queue. We ship once a month from Europe. As long as payment has arrived, we ship your order on our monthly shipping date, and delivery times from Europe to practically anywhere in the world is about one week. On your invoice their is a estimated shipping date.
Packaging of notes:
We package the notes in blank white envelopes. The envelope have no markings as to the contents or as to the name of www.e-worldbanknotes.com. This is done to safeguard the notes from theft or tampering during their transit in the postal system. We insert a piece of cardboard padding in each envelope to prevent folding. A receipt is also included in the envelope. For order of over 20 banknotes, we may use alternative size or types of envelopes to ensure safe delivery of the notes.
INSURANCE POLICY:
As with standard dealer policy, we send notes out at BUYERS RISK. We take every measure possible to ensure the protection of your notes, however, once we release the notes to the shipper (in most cases the post office) we no longer have control of the process. It is impossible to track packages sent by non-registered post. The mail is generally safe and reliable between Austria and most developed nations (eg.USA, Europe, Australia, etc). Packages to other destination should consider registered service. We strongly recommend registered postage be employed for orders of USD100.00 plus, or for orders to countries with a lack of adequate postal security measures. Registered post DOES NOT provide much insurance (notes sent out registered are insured for EUR50.00 per package), however, it does offer better and more accountable tracking. We keep a record of all tracking numbers and can place a trace at a customers request.
If you require Insurance, this must be prepared on a case by case basis. We will asses your order, your destination, and advise you what it would cost to send a fully/partially insured package..
Customs Clearance:
For security reasons, we do not affix a customs declaration to your order envelope. Obviously to write on the envelope a declaration "Banknotes enclosed" is tantamount to an offer to entice people to steal the contents. If you require a declaration to be placed on your envelope, please let us know in advance.