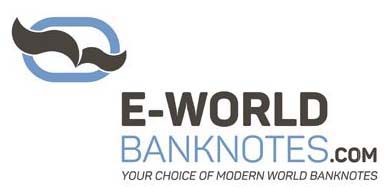 HOW TO PAY FOR YOUR BANKNOTES
IBNS MEMBER ID # 8104
EBAY MEMBER ID # eworldbanknotescom

---
PAYMENT OPTIONS #1:

Payment by CASH
or USD Cheque
All E-Worldbanknotes.com prices are in USD (US Currency). Payments sent are best settled through USD.


* Payment Mailing address:
James Pickering
Postfach 77
1011 Wien
Austria
* IMPORTANT: If sending registered mail, please inform us before sending for special instructions.
Payment is accepted by Cash, Postal Money orders, Personal Cheque (up to USD100.00), or by Certified Cheque for any amount. If paying by cheque, the cheque must be drawn on a US Bank Account. Most banks throughout the world will provide such cheques. E-worldbanknotes.com reserves the right to hold cheques for clearance before dispatching notes.
IMPORTANT: Cheques must be made payable to
If paying by cash, enclose the exact amount, e-worldbanknotes.com does not provide change. However, a credit will be applied to a future order. Also note, that sending cash in the mail can be risky, if not restricted in your country. Be sure it is safe to send the cash, as we will only credit you the amount that arrives in Vienna.
---

| | |
| --- | --- |
| PAYMENT OPTIONS #2: | Payment by Wire |
Payments can be made by wire transfer to our wiring address' in Canada, USA, Buglaria, Slovakia, United Kingdom, Hong Kong, Russia or Austria:

Payee:James Pickering
<<Inquire for wiring details>>

Please advise us by email on the date you transmit your funds. We will monitor the account for arrival. We do not charge a fee for receiving wires. However your issuing bank may have a charge. Make sure that you advise the bank to send a "net" payment to us, so that you wire amount does not arrive short of funds required to effect a purchase.
---

| | |
| --- | --- |
| PAYMENT OPTIONS #3: | Payment by Paypal |
- We now accept payment by Paypal, our account is James@e-worldbanknotes.com
If you have a Paypal account, you may employ this as a means of payment. However, be advised that you should add 3% to your payment amount if you are paying PAYPAL, as PAYPAL deducts this amount from your gross payment. All our prices are already cash discounted.
We only accept PAYPAL payments if using a PAYPAL confirmed address. We do not accept PAYPAL payments in excess of USD500.00. If your transaction is over USD500.00 consider sending a wire transfer.

To register for a PAYPAL account, go to www.paypal.com. We find there service quite useful, and safe, and ideal for international settlements.
---

| | |
| --- | --- |
| PAYMENT OPTIONS #4: | EURO PAYMENTS: Payment by Euro cash or cheque |
All E-Worldbanknotes.com prices are in USD (US Currency). All EUR cash payments are converted at the rate our bank charges us to purchase USD. If paying by a cheque, drawn on an EU bank, and in Euro currency, you must add EUR9.00 to your payment to cover bank charges.
---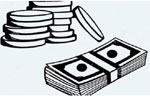 | | |
| --- | --- |
| PAYMENT OPTIONS #5: | Send us banknotes from your country: |
If you live in a country outside of the USA or Euro zone, we may need crisp uncirculated banknotes from your country. If you wish to pay with new notes from your country, we can offer you a discount of between 5-10% from your order total. Depending on which currency you will be paying with.
---

| | |
| --- | --- |
| PAYMENT OPTIONS #6: | PAYMENTS by USD travellers cheques: |
Often, one of the less expensive way to send payment in USD from a foreign country is to purchase travellers cheques from your bank. For example, if you place an order for USD100.00 with us, you can purchase a travellers cheque for USD100.00, sign the cheque twice, and send it to us as payment. This is one of the least expensive and safest methods to send payment.

IMPORTANT: Cheques must be made payable to

---